HK Audio Lucas Systems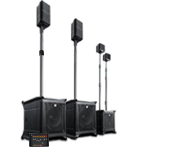 HK AUDIO LUCAS
Within a few short months of its debut in 1998, the original LUCAS system triggered a sea change on the market for compact sound reinforcement systems. Exceptional depth and detailing from soft to loud paired with ingeniously simple handling made it the venerable progenitor of the entire HK AUDIO LUCAS product family. In fact, it sired a new product category that sent many of the conventional compact sound reinforcement systems scurrying for cover, never to be seen again in some market segments. The newest generation of this best-selling product family embraces the first LUCAS generation's sought-after features and leverages state-of-theart speaker and digital technology to attain an unprecedented level of performance. The original was a high-water mark in system engineering, but the new generation, even more compact, lighter, and able to deliver even more impressive sound with even greater reliability, raises the bar even higher. Whatever your musical mission as a DJ, mobile entertainer or small band, the new LUCAS family's five systems offer the perfect solution for every range of application you may encounter.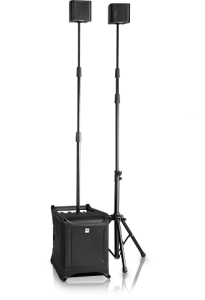 LUCAS NANO SYSTEMS – NANO 300
Probably the world's smallest and lightest mulit optional sound system, LUCAS Nano 300 is the go-to rig for an impromptu jam session with an acoustic guitar and vocals, a champagne reception in a lobby, and a backyard cookout to catch the World Cup final with all your friends. It travels light in one hand and practically disappears once it's set up. A keyboard, mic, acoustic guitar, and an MP3 or CD player can be plugged straight in, so you'll rarely need an external mixer. Link mode connects two NANO 300s to create a powerful twin stereo set. The two mixers are linked to put twice as many channels at your fingertips. LUCAS NANO 300 turns every a party into a performance!
Versatile: Configures as a mono PA, a 2.1 setup or a double stereo set with twin satellites
2 satellites with 3.5′ broadband woofers for excellent speech intelligibility
230 W power amp
120 dB max. SPL
Low-ranging bass down to 44 Hz
Satellite transport bay inside the subwoofer enclosure
Weighs just 10.3 kg and leaves a very small footprint
Several optional add-ons
LUCAS NANO 300 offers a wide range of ports for nearly every conceivable source from keyboard, mixer, microphone and acoustic guitar to an MP3 or CD player.
Two Lucas Nano 300s can be doubled up to create a more powerful stereo system. The two mixers communicate via the link cable, giving you twice the output power and number of input channels.

LUCAS NANO 600
Extremely compact and light, yet extraordinarily powerful: with the world's first crossover PA, HK Audio is setting new standards for portable PA Systems.
Crossover means the bringing together of the various advantages different speaker formats offer. The superior, far-reaching high frequencies you'd expect from a high-quality fullrange cabinet. The elegant and space-saving appearance of a column system. And the powerful bass of a hefty subwoofer housed in a wooden cabinet. All at the sensationally low weight of 16.3kg.
This is made possible thanks to a bunch of innovative technologies. Like the Multicell Transformer (MCT), which delivers the quality performance of a large high-frequency horn at a fraction of the size. What's more, the MCT guarantees the acoustically flawless coupling (Coherent Wavefront Stacking) of the two satellites in a mono column format. Then there's the ingenious Anti-Resonance Bracing (ARB), which ensures that the subwoofer uncompromisingly converts every single watt of power into pure low-end energy.
The practically minded and comprehensively appointed input section makes a separate mixer superfluous in the vast majority of cases.
And one absolutely unique factor: depending on the task at hand, LUCAS NANO 600 can be used as a slim mono column or as a compact satellites/subwoofer system. Or, simply combine two mono columns to experience the first ever "big" PA system that can be transported in two hands.
Versatile: Configures as a mono PA, a 2.1 or a twin stereo setup
Two satellites with a 4.5′ woofer and 1′ tweeter
10 Inch Subwoofer
5 Inputs, 3-Channel-Mixer, Mic In 1 with Phantom Power
460 W power amp
130 dB max. SPL
First of its kind worldwide: MultiCell Transformer for optimum dispersion
Low-resonance bass enclosure for remarkable low-end performance
Satellite transport bay inside the subwoofer enclosure
Weighs just 16.3 kg
Several optional add-ons
LUCAS NANO 600 is even more lavishly appointed: Inputs 1 and 2 afford you even greater flexibility by providing enough channels for a vocal duo with accompaniment or two acoustic guitarists with an additional vocalist. On top of that, it furnishes phantom power for condenser microphones.
The newly developed MultiCell Transformer for the 1′ compression driver is certainly an innovative highlight. This advanced Wave Transformer technology shoehorns the acoustical benefits of a much larger CD horn into this compact format and allows two satellites to be stacked properly to achieve the best audio performance.
Epoxy housings have many benefits, but they've never been famous for delivering massive, muscular bass. So our engineers took a novel approach to this challenge, using a special state-of-the art simulation method to analyze how the LUCAS NANO 600 subwoofer's enclosure bends and flexes. They pinpointed all the resonance points and then reinforced the unit with a sophisticated metal bracing.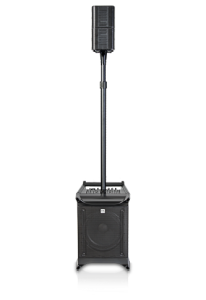 LUCAS NANO 608i
HK Audio's LUCAS NANO 608i is the first all-in-one PA to feature an onboard iPad-enabled mixer. With eight channels, impressive reverb programs, intuitive EQ and compressor functions, and convenient Bluetooth streaming, this new top-liner among end-to-end systems makes professional wireless mixing easier than ever. Remarkably compact and ultra-light at just 16.3kg, this handy PA also delivers the extraordinary audio power you would expect from the LUCAS NANO 600.
The first ever compact PA to feature an integrated wireless iPad-enabled mixer
Free app for iPad: LUCAS NANO REMOTE
Eight-channel digital mixer with professional features
Simple handling; assembles in seconds
Bluetooth: audio streaming and wireless connection to the app for iPad
Flexible: can be used as a mono PA, a 2.1 setup or in Twin Stereo
Two satellites with 4.5′ broadband woofer and 1′ tweeter
10′ subwoofer
Low-resonance bass enclosure featuring "Anti-Resonance Bracing"
130dB max. SPL
Multicell Transformer technology
460-watt power amp
Transport bay for the satellites located in the subwoofer
Signal-carrying distance pole (available separately)
Just 16.3kg