Mixing Desk Repairs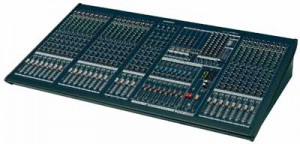 Pro Audio Service can repair and service both digital and analog mixing desks / recording consoles. We can supply spares from most major manufacturers.. Whether its a vintage Soundcraft analogue console, DDA or up to date budget desk we will provide a cost effective solution.
We accept consoles (flight cased) and compact desks by courier or by our pickup service. (please ring for details) for service and repair at the workshop.
Typical Service of mixing desks include
Strip down board
Clean pot and faders, regrease or repalce as necessary
Clean fans and filters
Check PSU voltages are in tolerance
Tighten all connectors and reseat ribbon cables
Check inputs and Outputs for channels and subgroups
Clean all input connectors
Clean all inserts, group outs and matrix
Replace missing or defective lamps.
General clean of surface of desk.
If there are any other electronic faults we will notify you and quote for the repair of these problems. We can rebuild , repair or replace switch mode power supplies for most mixers.
Prices : Mixing desk service are based on £30 per hour. Typical large console will take from 8 hours to 14 hours for basic service and clean inc lamps and connection faults. Please list all faults prior to service so that we can quote for these also.
16 channels 6-8 hours
24 channels approx 8-10 hours
32 channels approx 10-12 hours
40 Channels approx 12-14 hours
Smaller desks 4 hours plus parts.
Above based on 8 subgroups.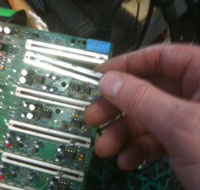 Very old consoles may need more time / parts due to intermittent problems due to age, tarnishing of contacts etc. If you are unsure about faults we will take delivery and check the desk for operation and quote for all problems found outside of standard service procedures. To check and provide a report on the desk is £35.
Mixing desk upgrades : We are happy to modify your mixing desk by fitting better quality op amps , decoupling caps and gold plated sockets or connectors. Also upgrade of VU lights to LED in certain mixers is possible. Replacing channel and master op amps TL072 or NE3352 with burr brown devices for a more detailed sound. There are many mods for mixing desks and we are happy to carry these out as per your requirement specified.