Guitar Amp Mods & Amplifier Modifications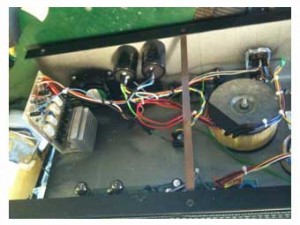 We are happy to provide guitar amp mods to your equipment to your requirements, whether it is an upgraded Mosfet output stage for a Trace Elliot (shown left ) , modifying your Marshall amp to run EL34 Valves, or making your fender Hotrot Deville or Twin less sensitive on the gain / volume pot. Please contact us with your requirements and we can quote you for your job.
Typical Mods:
Fitting Bright Push Pull Switches to gain stages.
Choke mods on Marshall Amps
Plexi Cap mods
Changes to Tube / Valve bias to run different Tubes / valves
Making volume pots and gain pots less sensitive.
Mods to Gain, EQ via switchable pots on most amplifiers ( Marshall, Fender, Vox… ).
Replacement of Output stages ( up 480w RMS bass amp stages into 2ohms available )
Fitting standby switches to Valve Amps
Rewiring old equipment to be earthed properly to pass PAT tests.
Wiring to 240v ( there are alot of amps wired to 220v for the euro market thus running the heaters , and plate voltage too high
Fitting additional cooling to allow amps to run efficiently.
Fitting Foot Switches for various operation.
Fitting Phantom power to desks
Speaker replacements and upgrades.