Guitar Amp Repair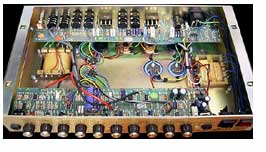 Repairs to your Guitar amp for all types of amplifier from combos to heads, electronic servicing is provided to valve ( tube ) amps and transistor ( solid state ) alike from popular manufacturers and brands such as Fender, Marshall Amplification, Blackstar ,Mesa Boogie and Orange to more obscure brands. We perform amp repairs, customer modifications and service.

Pro Audio Service always will use genuine manufacturers parts and can also offer alternative replacement parts where necessary when parts are obsolete or unavailable. We have access to the amp schematic drawings and diagrams from most major guitar amp manufacturers to aid our repairs. We can supply genuine parts for Blackstar, Marshall, Fender, Peavey, Mesaboogie, Vox , Orange and most other manufacturers.
Typical faults listed below for guitar amps can be anything from blown electronic components to broken connectors. We can diagnose these faults when we open up the amp and check with a meter / scope. From experience we can give an approximate price for your amp repair based on sysmptons of the faults but will need to have the unit on the bench to quote exactly. We charge a £35 bench charge to open up the amp and diagnose the fault. This is deductable against the repair if taken.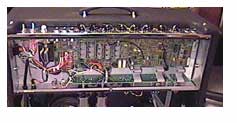 We have access to drawings and detailed information to allow us to repair your amp to manufacturer specification. We are happy to repair or refurbish vintage amplifiers to modern digital guitar amps as we have experience on both analogue and digital electronics, switch mode power supplies and other technologies.
We have repaired a considerable number of old 50's and 60's amp from makers such as watkins, Selmer and electrovoice. Generally these repair take a longer time due to the amount of components such as capacitors drifting with age. Often one repair will show up a fault elsewhere. Where possible we will use New Old Stock components ( NOS ) to keep the repair sympathetic with the amps age.
Typical faults are listed below ..
No power amp output : could be anything from power / output section / preamp / speaker / switches / standby problems.
Revalve / retube : worn valves, rebiased and checked.
Distorted output : Low power rails, blown op amps, incorrect biasing, faulty output transformer, faulty speaker.
Lack of Volume : Valves / Tubes , output stage damaged. Input op amps blown, output transformer, faulty headphone jacks, insert points or effects.
Intermittant output : Bad connectors , valve sockets , speaker problems, Valves/ Tubes
Noisey controls : New pots needed , clean existing pots
Blows valve resistors :Incorrect tubes fitted, sometimes wrong transformer wiring ( 230v / 240v )
Blowing fuses : intermittant Valves , Short Circuit components , Faulty Transformers
No lights / power at all : Blown fuses, transformer, bridge rectifiers / standby problems
Buzzing sounds , rattles : capacitors , diodes , rectifiers , reverb units
Poor tone on overdrive or clean channels : capacitors, faulty coils, tubes
There are hundreds of faults that can occur with guitar amps from common faults to very obscure faults. Please inform us of the symptoms when booking in your guitar amplifier for repair. For those customers wanting a speedy service we can offer a rush fee on your repairs , assuming the availability of parts. We sometimes can turn around the faulty amp in 1-2 days.
As an idea there are hundreds of different music equipment and guitar amp manufacturers that we can repair including
Ampeg – Guitar & Bass amps.
Aguilar Amplification – Bass amps.
Art Guitars – Instruments and amps with unforgettable looks.
A.R.T. – Preamps and a whole lot more.
AshDown Amplification – Guitar and Bass amps, preamps, cabinets, power amps.
Budda Amplification – Tube heads, combos and cabinets. Made in US.
Carvin – Guitar & Bass amps. Tube, solid state, heads/combos.
Carver – Rack mount power amps.
Clark Amplification – Fender tweed era replicas.
Cornford Amplification – Tube amps & speaker cabinets, Made In UK.
Conrad Johnson – Tube power amps & preamps.
Crate – Guitar & Bass amps. Tube, solid state, combos/heads/cabinets.
Cruz Amplification – Hand wired tube amps.
CTech – Pocket rockit headphone amplifiers.
Demeter Amps – Bass tube preamps, tube guitar amps, tube power amps.
Fender – Over 50 years of industry sound shaping.
Fishman – Makers of the "Loudbox" acoustic amp. Also Fishman pickups & preamps.
Gallien Krueger – Bass amps and cabinets.
Genz Benz – Preamps, amps.
Gorilla – Practice amps by the same company that makes pignose. custom hand-built electric and hybrid guitars and basses .
Green Matamp – Made in North England by Dave Green and Jeff Lewis Matamp.
Harmony Guitar Company – Guitars & Amps.
Hartke – Bass amps, Samson wireless and Zoom effects.
HiWatt – Tube and Solid State amps. Since 1964.
Hughes & Kettner – Tube & Solid state amps for guitar and bass.
Johnson Amplification – Combos with built in digital effects.
Koch – Tube heads, combos, preamps and cabinets.
Kustom – Guitar & Bass amps , poweramps.
Laney – Amps for any situation. Acoustic, hardcore, combos, tube, transistor.
Lee Jackson – Tube heads & combos, bass cabinets.
Line 6 Guitar Amps – Combos & Preamps.
Marshall – The rock classic.
Mesa Boogie – Tube heads and combos with class.
Orange – Legendary British guitar amps.
Peavey – Guitar, Bass, Keyboard tube & solid state.
Pignose – Portable battery powered mini amps.
Porta Amp – Fully rechargeable amplifier for electric guitar & other instruments.
Rhino Guitar amps – Tube heads, combos and cabinets.
Rivera – Tube heads, combos, rack systems and cabinets.
Rocktron – Tube & Solid state amps, preamps, effects, stompboxes.
Roland – Makers of the famous Jazz Chorus combos.
Soldano – Tube amps and preamps.
Sovtek – Tube Heads & Electro Harmonics combos.
Standel – Boutique Amps since 1953.
SWR – Bass heads and combo amps.
Tech 21 – Guitar amps, Bass amps, Sans Amp, Effects.
Torque Amplification – Small combo amps. Distributor only page.
Trace Elliot – Guitar, Bass, Acoustic and Keyboard amps.
Tubeworks – Preamps/amps.
Vox – Legendary guitar amplification
Warwick – Bass amps.
Yamaha – Solid state combos/heads/cabinets.