Amplifier and Speaker Repairs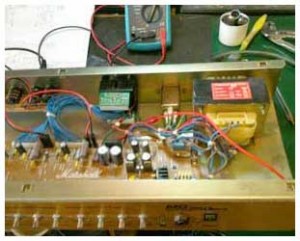 What do we repair ?
We repair most types and makes of audio equipment from valve amps, transistor amplifiers, speakers, powered speakers, mixers and lighting effects.
We can rebuild or modify the amps to your spec. All work comes with a three month guarantee of our work and all parts (see terms below). All repairs are returned with a service sheet detailing the repair and cost of individual parts and labour. We also undertake electronic repairs to instruments such as keyboards, guitars, basses, effects racks, pedals etc..
How Much do repairs cost ?
£40 Bench Charge ( plus VAT ) – To open up the unit and test to see what is essentially wrong. This includes 1 hour labour and small parts. (Larger parts such as output transistors , valves and transformers are charged extra.) We we inform you of the estimated cost and whether it is economical to repair.
£40 Labour charge ( plus VAT )per hour after that.
You can Drop off equipment or send by courier ( at your risk and cost ) but please let us know before items arrive. Please be aware couriers do not insurre against breakage on audio equipment , valves , speakers etc.. For heavy items in the Midlands areas we can offer a pickup/delivery service charged at £40. Local areas are charged at £15. Subject to availability .Please ring to get a price.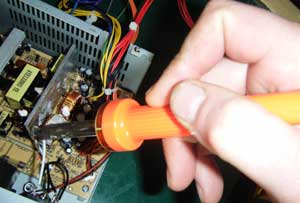 Repairs to electronic equipment vary from a simple replacement of a leads or connection to a complete rewire or multiple component change. It is necessary to examine the equipment prior to any quote for work. We charge a £40 plus VAT bench charge where we will examine the equipment and if possible repair the equipment. This price includes up to 1 hour of labour and small components. However on inspection there may be replacement of more expensive components and more time. If this is the case we will inform you of the estimate to repair the equipment.
Servicing costs are charged at £40.00 plus VAT per hour (typically 2 hours for an amp) plus parts.
Call outs are charged at £50 plus hourly rate (£40.00 per hour) and parts. ( plus VAT )
What is the turnaround time for repairs?
Generally repairs are done within 1-2 weeks. We can supply a diagnosis within a few days of receiving the item and a delivery time for completion. On repairs where parts are not in stock the turn around time will be slightly longer depending on availability.
Rush Fee : Cannot wait a week? – we offer a prioity rush service of 3 days. £30 charge extra
Repairs on In house systems will be done as soon as possible. In certain circumstances we may provide a loan item whilst we repair the faulty equipment.
All repaired items are given a Free PAT Test to ensure that they comply with electrical safety.
Equipment may be delivered to us by courier or brought in (appointment is necessary). We also operate a pickup service where we can arrange to pickup the equipment if this is viable. (usually within 20 miles)
Repairs can take a varying amount of time depending on the components that require replacing. You will be informed at the earliest opportunity of the timescale.
If you need advice or would like to book a repair the please telephone to arrange your repair
Guarantee terms : Excludes consumables such as bulbs, reflectors, liquids. Valves have 1 month guarantee excluding misuse. Parts sold for customers own fit including but not limited to diaphragms , drivers and electronic components are classed as consumables and cannot be returned after use or fitting. If your speaker has blown please have the amp checked prior to fitting a new driver. Diaphragms and speaker re-cone kits require technical knowledge and experience to fit. If you do not have these we cannot provide support for fitting such items. such items often will fail if incorrectly fitted.